TelAve News/10480266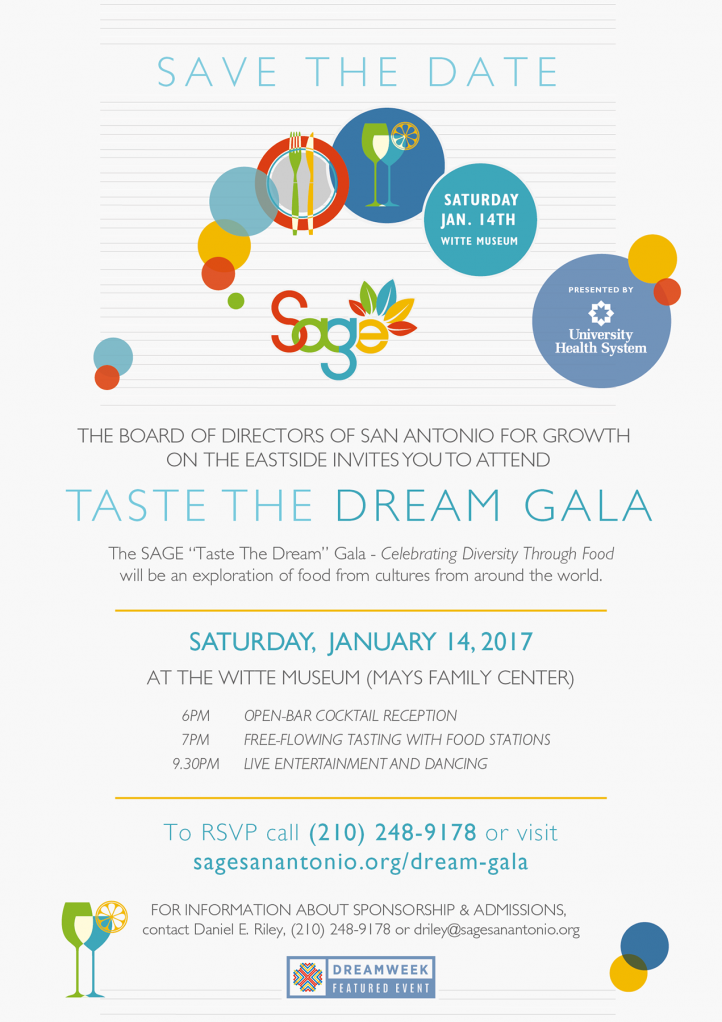 SAGE announces honorary co-chairs, featured chefs, and title sponsor of third annual Taste the Dream Gala, January 14, 2017 at Witte Museum Mays Family Center
SAN ANTONIO
-
Nov. 30, 2016
-
TelAve
--
San Antonio for Growth on the Eastside
(SAGE) will host the third annual
Taste the Dream Gala presented by University Health System
at the Witte Museum Mays Family Center on Saturday, January 14, 2017 at 6:00PM. The unconventional gala has been a favorite among the urban social scene because of its unique approach to celebrating diversity on the Eastside. "Celebrating Diversity through Food," the Taste the Dream Gala, will be an exploration of food cultures from around the world. This year, chefs from popular local restaurants have graciously come together to honor Martin Luther King's legacy through food; they include:
· Master Chef Errol Graham, Tony G's Soul Food
More on TelAve News
· Chef Geronimo Lopez, Botika
· Chef Jeff Foresman, Zocca Cuisine d'Italia
· Chef Mark Outing, Mark's Outing
· Chef John Belvin, Countdown Catering
· Chef Nicola Blaque, Chef Nicola Blaque Inc.
SAGE executive director Jackie Gorman has gathered a team of industry leaders to assist in spotlighting this momentous event, including honorary co-chairs Paula Gold-Williams, President and C.E.O. of CPS Energy, and Rosemary Kowalski, philanthropist and founder of the RK Group. SAGE plans to utilize its partners' support to increase Eastside resident programming, further engage with diverse development leaders, and provide comprehensive consulting to corporate partners.
"This is an exciting time for Eastside development," says Gorman. "With the increase of new neighbors that include both businesses and residents, the importance of the Eastside as a commercial hub is growing beyond the Promise Zone."
One corporate partner actively showing interest in the Eastside's development is
University Health System
which has partnered with SAGE as the title sponsor of the 2017 Taste the Dream Gala. University Health System recently held a historic groundbreaking event for the new University Health System Dr. Robert L.M. Hilliard Center, located at 601 Runnels and slated to open its doors in late 2017.
More on TelAve News
Learn more about the "Taste the Dream" Gala preented by University Health System by visiting
http://sagesanantonio.org/dream-gala
.
About San Antonio for Growth on the Eastside
SAGE is a non-profit organization, governed by an 11-member board of directors. Through our partnerships, alliances and leveraging resources, SAGE serves as an economic development resource for current business owners and potential new businesses moving into our community.
As a standalone 501(c)3, we receive funding from both public and private sources including the City of San Antonio. We identify the needs of the Eastside business community and provide assistance to businesses that already have a foothold in our commercial corridor.
Source: San Antonio for Growth on the Eastside
---
0 Comments