TelAve News/10531498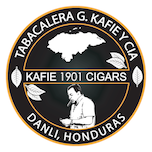 After the successful launch in the United States, the European market will now be able to enjoy the brands "Kafie 1901" and "San Jerónimo". Boutique cigars hand crafted in Danli, Honduras.
DANLI, Honduras
-
April 26, 2018
-
TelAve
--
PasionPuro
(Germany) will import and distribute these two new brands to the German market (
Kafie 1901 Cigars
&
San Jerónimo Cigars
).
This April 27th a limited quantity of boutique cigars will enter the German market. The brands Kafie 1901 Cigars and San Jerónimo Cigars are the creation of retired physician Dr. Gaby Kafie and his team in Honduras. The Kafie 1901 Cigars lines was created back in 2013 to commemorate the families history in Honduras. The date 1901 reflects the year Don Shucri Kafie arrived to Central America by way of England. The Kafie family has deep roots spanning 4 generations in Honduras.
Kafie 1901 Cigars is a very traditional yet exciting line of cigars which used tobacco from several countries, including Honduras, Nicaragua, Ecuador, Mexico, and the Dominican Republic. Dr. Kafie insists on making cigars that are well balanced, full of flavor, and a pleasure to enjoy. His main focus is on proper fermentation and aging of the tobacco (up to 4-5 years).
More on TelAve News
The San Jerónimo line of premium cigars derives its name from the San Jerónimo, Honduras one of the first areas in Honduras where tobacco was grown for use in premium cigars dating back to the 1930's. The San Jerónimo Cigars brand (known as Tabacos San Jerónimo in Honduras) is the oldest registered cigar brand in the country.
All cigars crafted at Tabacalera G. Kafie y Cia are made utilizing the entubado method for rolling cigars. This method is the classic traditional cuban style way of ensuring a good draw. Furthermore, all cigars are draw tested at the factory prior to applying the final wrapper. Once a wheel of 50 cigars is completed it is set aside to rest for 2 days and then weighed to ensure that the cigars are within proper weight limits. Any variations in weight are corrected prior to packaging. This meticulous process ensures the connoisseur receives the finest cigars in each box.
PasionPuro has teamed up as the exclusive distributor for the German market. The team believes in the philosophy Dr. Kafie and his team have in the cigar making process. The entire team is a family, everyone is treated as an equal member with equal significance in day to day operations. Tabacalera G. Kafie y Cia. and Dr. Kafie insist that its success has come from having quality people using quality tobacco to produce quality cigars. "We firmly believe that our staff is our greatest asset, any problems they have (personal or professional) are also my problems. We work together and help each other overcome all obstacles." states Dr. Kafie.
More on TelAve News
In order to protect and preserve small manufacturers of premium cigars, Dr. Kafie, along with a board of directors comprised of industry professionals, founded the Boutique Cigar Association of America (BCAA) this past February, 2017. The mission of the BCAA is to unite, educate, and assist small companies in an effort to meet the demands of the Food and Drug Administration (FDA) regulations on premium cigars in the United States.
PasionPuro is a small team that enjoy cigars, wines, spirits, and other fine products. PasionPuro takes great pride in finding some of the smallest cigar factories from the Americas in an effort to debut these extraordinary products to the European market. The focus is on establishing and building relationships with such manufacturers in an effort to bring new world cigars to the marketplace.
Both Tabacalera G. Kafie y Cia and PasionPuro are very excited to be taking steps together to conquer the German market, and the European market together. The close bond between both companies gives PasionPuro the ability to implement new and extraordinary communication and sales concepts in marketing.
Both companies look forward to an exciting 2018. Dr. Kafie states, "My dream has always been to create a global brand that can be appreciated by all connoisseurs".
Source: Kafie Trading Company, LLC
---
0 Comments