TelAve News/10531897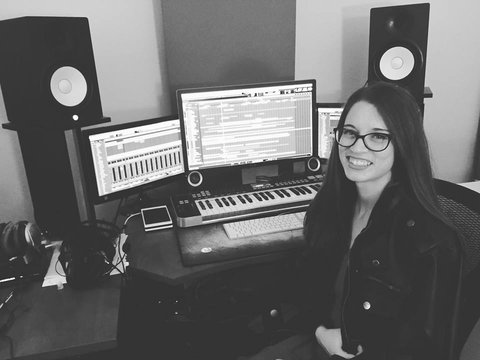 Award nominated composer Samantha Van Der Sluis composes the score for James Rogers' upcoming film "Felix"
LOS ANGELES
-
April 27, 2018
-
TelAve
-- Underground Cinema Award nominated composer Samantha Van Der Sluis recently wrapped production as the lead composer on the upcoming animated film "Felix," which is due out next month.
"Felix" director James Rogers says, "Samantha's music has blended with the visuals seamlessly and helps tell the story as I always imagined. It's the emotional pulse of the project. Samantha is great to work with, she is always flexible, trying new things, and bringing positive, collaborative energy to the team."
"Felix" depicts the touching story of a homeless street dog named Felix who overcomes his distrust of humans after meeting Esme, a kind elderly woman who shows him affection and showers him with treats.
With "Felix" taking place in New Orleans, Samantha created a score for the film that comes across as a mix of New Orleans jazz and Japanese-inspired soundtracks that bring to mind the work of composers such as Nobuo Uematsu, who scored most of the titles in the "Final Fantasy" series, and Yoko Shimomura ("Street Fighter II").
In order to drive the emotional relationship of the two main characters, Samantha says, "It was important to develop a theme between Felix and Esme."
Though the story "Felix" brings to the screen is heart-warming as a whole, it is not without its sad points, and Samantha captures the film's sense of shifting moods and melancholy nostalgia with pure grace in her score.
She explains, "I recorded saxophone to keep the New Orleans style going while writing a piano solo for the main theme in the style of a Japanese composer. These two location-based styles were interesting to work with and made the score very unique."
More on TelAve News
Since beginning her career as a film composer several years ago, Samantha Van Der Sluis has continued to reveal her extraordinary talent in creating the kinds of compositions that set the emotional tone of the films she scores and elicit strong feelings within viewers. The way she provides the mood and feeling for the animated characters and brings them to life with palpable emotions makes "Felix" a powerful first foray for her into scoring animated films.
"I am so passionate about animation and could not wait to write music for this genre. It is a dream come true for me and I would love to keep on writing for animation," admits Samantha. "There is a lot of potential to create a very sophisticated, musical score that adds complexity to the music, because you may also be scoring the actions on screen."
Last year Samantha earned the prestigious nomination for the Best Score Award from Ireland's Underground Cinema Awards for her work as the lead composer on Stephen Hall's emotional film drama "Day Off," which tells the story of a middle-aged man struggling with dementia and the undying love his wife still has for him, despite the stress his illness places on their marriage.
After the success of "Day Off," which earned the Newport Beach Competition Award from The Richard Harris International Film Festival and was nominated for eight other awards at various film festivals around the world, Samantha was recruited to be the lead composer on Hall's recent horror film "Nightshift," which is being distributed by Archstone Distribution.
She is also known for her work as the lead composer on the new thriller feature film "Landfall" from director Travis Bain ("Throwback," "Scratched"), which is currently screening at theatres across Australia and has received rave reviews. Featuring famous actors Vernon Wells ("Mad Max 2," "Skippy"), Tony Bonner ("The Man From Snowy River") and Daryl Heath ("Matrix: Reloaded"), "Landfall" is a riveting tale of a couple's fight for survival against three armed fugitives and a looming cyclone. The film is backed by a score that heightens the heart-pumping anticipation of the scenes in a powerful way and keeps audiences on the edge of their seats the whole way through.
More on TelAve News
Samantha says, "I absolutely love contributing towards something creative and being helpful to the production. I love storytelling and I think my strength to do that lies in music. I love to express certain emotions and bring out feelings in the listeners and movie goers."
From her work as the composer of scores for emotional dramas like "Day Off," adrenaline fueling thrillers like "Landfall" and now the touching animated film "Felix," Samantha Van Der Sluis' collective body of work to date reveals her as a diversely talented composer whose music adds powerful elements to a film's story. Among her other accolades, she is known for her composition 'Searching for Home,' which was selected by the Dublin Philharmonic Orchestra and performed on their 2016 world tour, as well as for her arrangement on the musical suite for James Newton Howard's score from the Oscar Award winning film "Fantastic Beasts And Where To Find Them."
Manager at JoAnn Kane Music Service Josef Zimmerman, one of the industry's lead music librarians, explains, "She created a music suite for James Newton Howard's film 'Fantastic Beasts And Where To Find Them.' This piece of music was then performed at James' 'Live in Concert European Tour'... This meant that her work was showcased all over Europe as part of a highly prestigious concert with one of the world's leading music composers... to be included in his repertoire shows Samantha's acclaim and skill as a composer."
Source: Samantha Van Der Sluis
---
0 Comments