TelAve News/10810545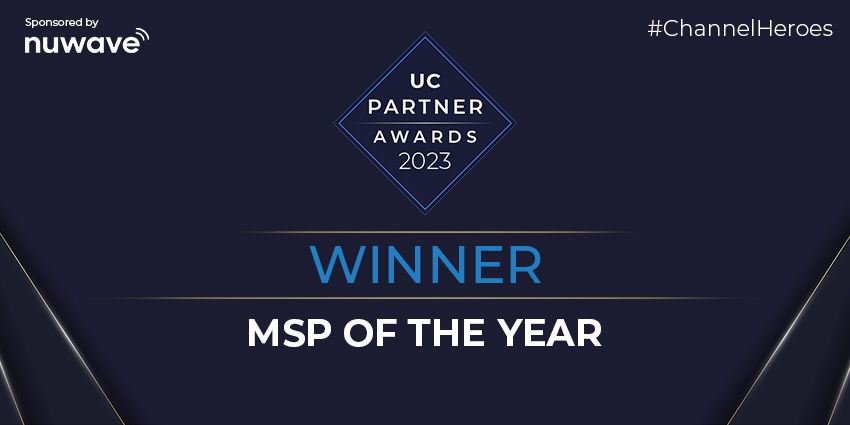 MONTREAL
-
TelAve
-- ZIRO, a leading unified communications solutions provider, is ecstatic to announce it has been named Managed Service Provider (MSP) of the year at the 2023 UC Partner Awards celebration. This prestigious award recognizes ZIRO's unparalleled ability to amplify enterprise productivity and transform communications and collaboration.
UC Today, the leading international news publication honoring excellence in Unified Communications and Collaboration technology hosts the UC Partner Awards. Judging is based on an organization's ability to demonstrate innovation, improved experience, and execution. The panel of judges includes industry experts such as Finbarr Begley, Senior Analyst at Cavell Group, and Margaret Adam, Head of Product Marketing at Channel Mechanics.
Why did ZIRO win this award?
ZIRO demonstrated…
A comprehensive capability to successfully deploy, drive adoption, and manage pivotal UC apps and services. This positions our customers to excel— whether working, learning, or creating.
Expertise in optimizing Microsoft Teams and Cisco WebEx calling solutions, ensuring streamlined communication, be it chat, meetings, or calls.
Dedication to crafting bespoke apps and solutions tailored to meet the unique demands of customers.
Commitment to delivering superior employee experiences and solutions to assist customers in harnessing knowledge and expertise, amplifying culture and communications, and accelerating skill development while balancing productivity and well-being.
Commitment to transparency in all our processes, ensuring clients are informed and confident in the provided UC services.
A responsive team always ready to address client needs promptly and effectively, ensuring uninterrupted communications and rapid support.
What does ZIRO winning 'MSP Of The Year' mean for your business?More on TelAve News
As a dedicated Cisco & Microsoft solutions partner, ZIRO equips your enterprise with state-of-the-art UC solutions. Lead your business into a sophisticated era where productivity takes center stage.
Benefits You'll Appreciate:
Expertise and Support: ZIRO provides valuable guidance and support to ensure your UC system is configured, maintained, and optimized for your specific needs.
Cost Savings: ZIRO cloud solutions minimize expenses associated with hiring and training staff and infrastructure and software maintenance costs.
Reliability and Uptime: ZIRO offers Service Level Agreements (SLAs) that guarantee availability, minimize downtime, and ensure your business can operate smoothly.
Security and Compliance: ZIRO helps you protect your sensitive data and maintain the privacy of your communications.
Scalability: As your business grows, your UC needs may change. ZIRO UC solutions quickly scale up or down to accommodate your organization's size requirements.
Customization and Integration: ZIRO tailors UC solutions to meet your specific needs and integrates them seamlessly with your existing IT infrastructure and applications.
Support for Remote Work: With the increasing importance of remote work, ZIRO optimizes its UC solutions to support remote collaboration better, ensuring your employees can work effectively from anywhere.
A Word from ZIRO's CEO:
"Winning MSP Of The Year at the 2023 UC Partner Awards validates our unwavering commitment to eliminating vendor and service provider hassle and giving our customers confidence in their UC solutions," remarks Steven Karachinsky, CEO of ZIRO. "We bring the experience, transparency, and responsiveness customers need to know their UC is in good hands."
More on TelAve NewsStep into Tomorrow, Today!
Don't lag behind. Embrace the future of unified communications. Kickstart your journey with a
Free unified communications assessment
. At ZIRO, we simplify Cisco and Microsoft calling solutions, offering unparalleled expertise, clarity, and swift response times.
Find UC Awards online:
Website:
www.uctoday.com/ucpartnerawards
Hashtag: #UCPartnerAwards23 or #ChannelHeroes
Twitter:
https://twitter.com/uctodaynews
LinkedIn:
https://www.linkedin.com/company/uctoday
YouTube:
https://www.youtube.com/@uctoday
About UC Partner Awards:
Hosted by UC Today, the awards ceremony has become the beacon of recognition for companies and professionals pushing the envelope in the UC and Collaboration technology sphere.
UC Partner Awards 2023 is here for its third year and is bigger and better than ever before! Winners of the 2022 awards included
Zoom
,
RingCentral
, Webex by Cisco (
https://www.webex.com/
) and more, with exclusive streams from our people winners, Claire Makin from Digital Wholesale Solutions and Aaron Fox from TelXL.
Source: Stack8 Technologies Inc. DBA ZIRO
---
0 Comments