TelAve News/10809711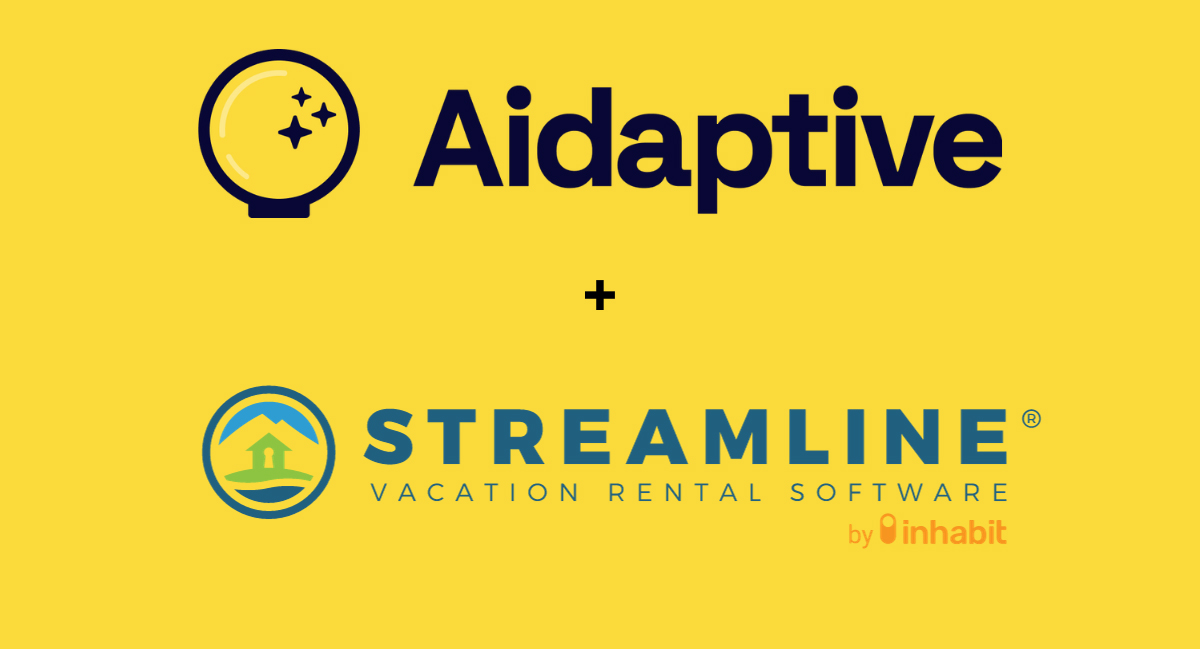 Technology leaders in the vacation rental industry join forces to help property managers turn existing data into business growth with artificial intelligence.
CUPERTINO, Calif. & CHANDLER, Ariz.
-
TelAve
--
Aidaptive
, the #1 artificial intelligence (AI) platform powering the vacation rental and hospitality industries, and
Streamline
, the leader in vacation rental management software and solutions, announced today a partnership that will transform how vacation rental managers access and capitalize on their existing business and customer data.
The vacation rental market is a $20 billion industry in the United States. It is incredibly competitive, and it is highly dependent on digital channels for online sales and bookings.
With
artificial intelligence
(AI) playing an increasingly critical role in every aspect of the industry, property managers recognize that they need to accelerate the adoption of these solutions to ensure they remain competitive.
The partnership with Aidaptive will enable Streamline customers to leverage an enterprise-grade autonomous intelligence platform to unlock the potential of their existing business and customer data through the power of predictive and forward-looking business insights.
Besides being able to predict future business outcomes based on historical data, Aidaptive's platform also serves as an extension of their data and marketing organizations, automating and optimizing several business workflows for their teams. Including
Direct Booking Website: Through a simple integration with the property manager's website or mobile app, Aidaptive takes learnings from historical data and then matches them with real-time information from website visitors to personalize the individual guest booking experience online automatically. It predicts each guest's characteristics, preferences, and buying power while on the website and automatically curates and delivers personal property recommendations throughout the website or search.
Marketing Personalization: Aidaptive's Predictive Audiences empowers marketers to tailor email campaigns to each recipient automatically, ensuring 1:1 personalization. In addition, rather than broadcasting promotions for individual properties to large segments, Aidaptive will automatically mine existing databases for recipients best suited for the available properties.
Reservations: Lastly, phone reservation teams can now access individual property recommendations at their fingertips, expediting and improving the booking experience via telephone and offline channels as well.
Additionally, the unique ability that Aidaptive has to learn from new data inputs continuously allows the system to constantly optimize for the best outcome and adapt to changing guest preferences and market dynamics in real-time.
More on TelAve News
Streamline users can now significantly improve their direct booking conversion rates, increase their return on ad spend (ROAS), automatically personalize thousands of promotional emails, and maximize direct booking revenue. This will allow Streamline customers to rely less on online travel agencies (OTAs), augmenting property discovery and increasing margins.
"At Aidaptive, we believe that the future of vacation rental management is not just about data collection but intelligent data activation. This partnership with Streamline marks a significant leap forward, transforming the vast sea of data into actionable, growth-driving insights," said Rakesh Yadav, CEO and founder of Aidaptive. "We are not just changing the game; we're creating an entirely new playbook for how property managers engage with data, using AI to turn information into a strategic asset that powers decision-making and unleashes unprecedented business potential."
"Streamline is known for offering advanced technology to PMs, and our collaboration with Aidaptive furthers this effort. Aidaptive will assist our clients in predicting market needs, enabling agile responses. We believe this partnership will empower our clients with predictive insights, giving them a competitive advantage," said Michael Hill, Director of Technology Operations at Streamline.
The Aidaptive platform is now available via Streamline Marketplace. Streamline and Aidaptive teams are also hosting a webinar to review the partnership details on Friday, November 17th, 2023. RSVP for the upcoming online event at
https://aidaptive.com/streamline
.
About Aidaptive
Founded by the former Google team behind Google Ads and Payments' artificial intelligence and machine learning infrastructure, Aidaptive is powering the next generation of hospitality businesses with an enterprise-grade artificial intelligence, machine learning, and predictive analytics platform. For more information, visit
https://aidaptive.com
.
More on TelAve NewsAbout Streamline
Streamline VRS offers a secure, stable, and robust software platform that will allow companies to grow efficiently and profitably. The top features include revenue management, trust accounting, mobile app suite, CRM/Lead Management, and customer support, including Streamline University, an extensive knowledge base, and an experienced and dedicated team. Streamline is trusted by more than 850 property managers to help their companies increase profitability and improve efficiency. To learn more, visit
https://streamlinevrs.com
.
Source: Aidaptive
---
0 Comments