TelAve News/10809945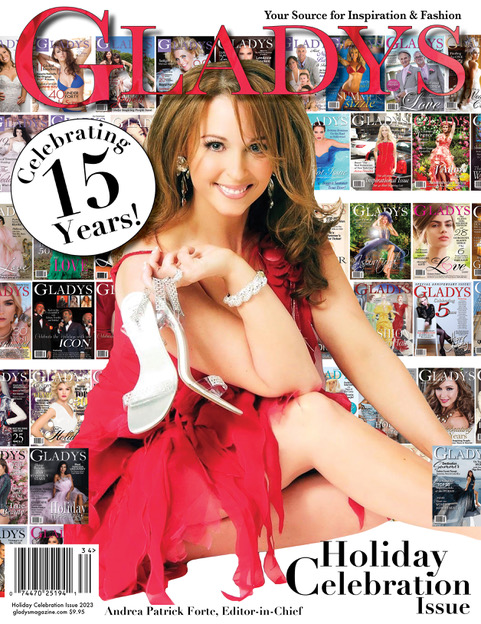 Featuring our Editor-in-Chief, Andrea Patrick Forte, Our Most Inspiring People & Past Cover Stars
CONNELLSVILLE, Pa.
-
TelAve
-- From Miss Pennsylvania to Magazine Publisher, Andrea Patrick Forte graces the Cover of this issue of Gladys Magazine, the magazine that she created 15 years ago in honor of her Mother Gladys Patrick. She invites you to join in the celebration of our 15 Year Anniversary of Gladys Magazine with this very Special Editor's Issue on stands Nationwide!
Andrea Patrick Forte is our leader, muse and inspiration here at Gladys Magazine. She is the President of Gladys LLC, a multimedia publishing company. In addition to creating Gladys, she launched her first business, Patrick Talent Agency, in 1991 - a leading provider of models, television show hosts, trade show spokesmodels, promotional models and top entertainment. She founded Gladys Magazine in 2009 which publishes work from artists around the world. Between our web site, social media pages and the print edition, Gladys Magazine has hundreds of thousands of readers from around the world. Prior to becoming an entrepreneur, Andrea was a model, actress and pageant contestant who won the prestigious titles of Miss Pennsylvania USA and Miss West Virginia. She is married to 50's Icon Fabian Forte who is also Gladys Magazine's Managing Director. Andrea and Fabian just celebrated their 25th Wedding Anniversary in September 2023.
More on TelAve News
Our Mission Statement is: 'A magazine dedicated to anyone who has been Inspired to pursue their dreams by someone they love.' Andrea says, "I was inspired by my Mother Gladys, our namesake and I have enjoyed featuring people who are inspiring to our readers. We've filled this issue with lots of great ideas for the holidays along with looking back at some of our most iconic moments. I am so proud of what we've been able to achieve throughout the years and I promise we'll continue to bring you inspiration for many years to come! I'm an influencer for young girls to chase dreams not beauty trends. Thank you to my Creative Team for designing this Special issue of me surrounded by all of our past cover issues!
We are thrilled to celebrate such a milestone with our friends, loved ones, and advertising partners. As we reflect on this beautiful journey, we extend our greatest thank you to all who support our magazine and everyone who celebrates with us.
Beyond any photo shoot, social media post, or magazine editorial, we love the way we make people feel and for opportunities to share inspiring stories of inspiring people. It is people like you—our readers, advertising partners, friends, and supporters—who help make our magazine what it is today."
More on TelAve News
Inside this issue we have named our Most Inspiring People of 2023 including Tyra Banks & Katy Perry and a look at what some of our past Cover Stars are up to today! Our List includes Monte Durham, Supermodel Kim Alexis, Jena Sims Koepka (Brooks Koepka's wife and she. was just named Sports Illustrated Rookie for 2024, famed photographer Nigel Barker and so many more!
Cheers to 15!
Gladys can be found at upscale booksellers, sophisticated retail outlets and select newsstands throughout the country.
www.gladysmagazine.com
Source: Gladys Magazine
---
0 Comments