TelAve News/10616188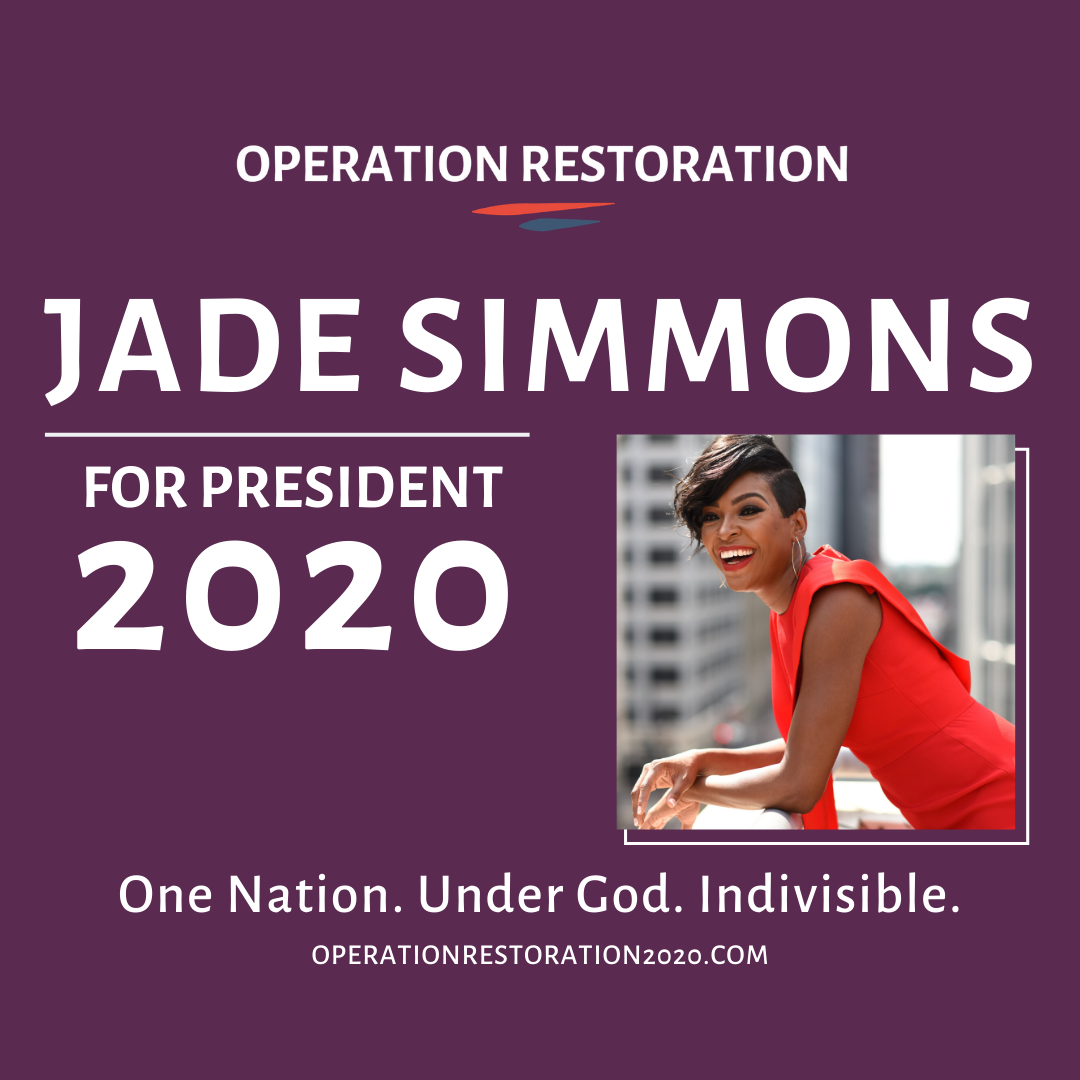 Spurred on by the exciting opportunity for unity that she sees in the midst of this unprecedented era of division, the acclaimed musician, top-ranked international speaker, and CEO of Jade Media Global is set to blaze a historic trail as an Independent contender in the 2020 race for president.
HOUSTON
-
TelAve
-- Houstonian Jade Simmons launched an unexpected and wholly independent 2020 run for President of the United States. She'll perform and speak on March 21st in a public, family-friendly concert experience at
Bender Performing Arts Center
in Humble, TX.
On Friday the 28th, the Northwestern and Rice University alum announced her intentions at Inspire Church during her first Operation Restoration Rally, a non-denominational gathering in support of challenging the current state of division in the nation.
More on TelAve News
The sought after speaker is brought in by the world's superlative brands to speak on transformational leadership, change mastery, innovation, and personal development. She was recently named one of the Best Keynote Speakers of 2019 (Northstar Meetings). She has been called on to inspire and influence a variety of industries including technology, healthcare, financial services, chemicals, manufacturing, fitness, pharmaceuticals, and education. Simmons describes her campaign as an inspirationally independent, powerfully non-partisan, and faith-fueled movement that focuses on "common ground, common sense" platforms that unite, rather than further divide.
Over the next few weeks and months, Jade will host a series of live events including more Restoration Rallies,
Mavens, Mommies, and Mavericks
Meet-ups during Women's History Month, and a spring Listening Tour in cities across the nation. She will also release her signature platform and policy issues in the days and weeks ahead, including her Pro-Human, Pro-Prosperity, and Pro-Protection policies, as well as her
"America's Best and Brightest"
collaborative initiative.
More on TelAve News
Jade Simmons is a graduate of Northwestern University and received her Master's degree from Rice University in Houston, TX as a Provost Fellow. Her musical prowess spans Rachmaninoff to Rap and has garnered her performances in renowned halls and the nickname of
Classical Music's #1 Maverick
. While still an undergrad in Illinois, she also served as an advocate for mental health awareness and youth suicide prevention, culminating in testifying before Congress alongside Tipper Gore and author Danielle Steele on behalf of mental health funding. Simmons, also an author and minister, has gone on to write the Amazon bestselling book
Audacious Prayers for World Changers.
She is the CEO of Jade Media Global, the umbrella organization for her speaking, performance, and content distribution activities.
More information on Jade Simmons, the Operation Restoration Movement, and all upcoming events can be found at
www.operationrestoration2020.com
Source: Citizens of Jade Simmons
---
0 Comments