TelAve News/10635353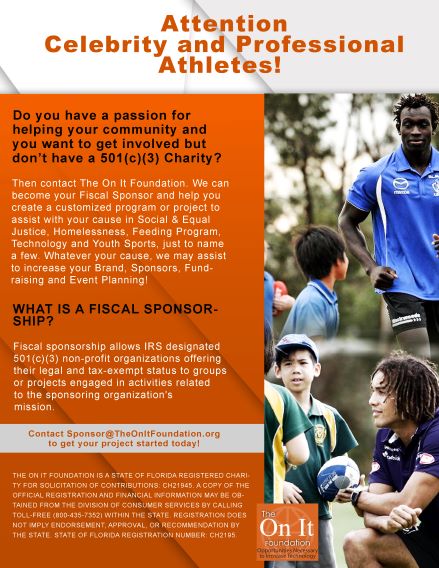 The Miami-based organization looks to increase the relationship between athletes, celebrities, and their communities
MIAMI
-
TelAve
-- The On It Foundation, a 501(c)(3) charity based out of Miami, is seeking to provide fiscal sponsorships to professional athletes and celebrities. The On It Foundation specializes in creating personalized programs in social justice, technology, homelessness, feeding programs, and youth sports. For professional athletes and celebrities with a passion for helping their communities, this is a can't miss opportunity.
Fiscal sponsorships are a way for an athlete or celebrity to pair with a 501(c)(3) charity and allow the charity to fund their vision to help create a positive impact in the community. Regardless of the cause, these relationships help athletes and celebrities build their brand and increase awareness to their mission. The On It Foundation helps athletes and celebrities find the perfect sponsors, and assists in fundraising and event planning.
More on TelAve News
Because studies have shown that students without computers will be unable to compete academically with students who have access to technology at home, all events will include a S.T.E.M. (Science, Technology, Engineering, and Math) component. All proceeds provided to The On It Foundation benefit our free computer distribution and discounted Internet programs.
In addition to strategic National partnerships, The On It Foundation has hosted events at the NFL's Super Bowl, NBA Martin Luther King Community Celebration in Orlando, Florida and various events throughout the United States.
About The On It Foundation:
For 20 years, The On It Foundation's – [Opportunities Necessary to Increase Technology] mission is dedicated to providing free computers along with computer training and Internet access to low-income families with students in grades K-12 that attend a public/home school, receive a free or reduced school lunch and reside within the United States. The On It Foundation is a National 501(c)(3) public charity non-profit organization providing ongoing year round services at no-cost to our recipients.

More on TelAve News
The On It Foundation was a 2005 recipient of the award from the Queen Latifah Foundation and Charitable Partner to
PEP Travel Group
,
America's Workforce Solution
and
ReferAll
.
For more information, visit
www.TheOnItFoundation.org
. For confidential Fiscal Sponsor request please email
Sponsor@TheOnItFoundation.org
Source: PEP Travel Group
---
0 Comments