TelAve News/10782012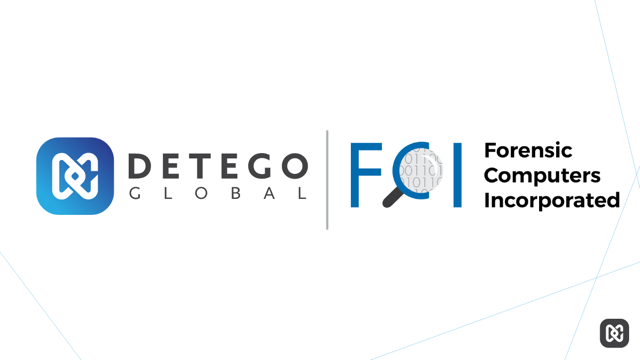 HORSHAM, U.K.
-
TelAve
-- Detego Global, the leader in rapid digital forensics technology, has teamed up with reseller partner Forensic Computers Incorporated (FCI) to bring their comprehensive suite of digital forensics tools to businesses, military professionals and law enforcement agencies around the world. The collaboration aims to make cutting-edge digital forensic solutions more accessible to organisations requiring swift data extraction and advanced analytical tools to fast-track investigations.
Designed to improve access to crucial technology at a time when digital crime is growing at a rapid pace, this offering will provide users with access to Detego Suite Pro for 120 days. Free, unrestricted access to this technology will be available to all customers who purchase an approved hardware solution from FCI throughout the year.
The new offering builds on the strong relationship between Detego Global and their US partner, FCI, where the two organisations have worked hand-in-hand since 2020 to deliver high-performance forensics hardware and software to leading organisations and agencies around the world.
Alongside access to Detego Global's award-winning digital forensics suite, customers will also receive a free online training session to leverage this technology so they can reduce bottlenecks and eliminate investigation backlogs. The total value of this offering is approximately $3,000.
According to Detego Global's Business Development Director for North America, C.J Hamidi:
"This partnership with FCI represents an exceptional opportunity for the digital forensics marketplace. In recent years, we've seen a significant growth in the number of companies trying to access the tools they need to rapidly collect, analyse and act on critical data. Now, all customers who purchase hardware from FCI will be able to take full advantage of Detego Global's platform for 120 days and get a first-hand experience of how it can help them solve cases faster."
Detego Suite Pro brings together the best in rapid forensic imaging, on-scene triage, AI-powered analytics and advanced workflow automation. Upon completion of the 120-day trial, users can switch to a paid license with additional discounts from Detego Global.
More on TelAve News
The comprehensive solution includes access to Detego Global's most popular tools, including:
Users will also gain access to several use cases curated by the team to help them understand how other agencies and investigators are using the technology around the world.
More on TelAve News
Jack Raubach, Vice President of FCI, commented on the collaborative initiative:
"We are thrilled to be partnering with Detego Global to offer our customers access to their award-winning digital forensics suite. We have been working closely with Detego Global since 2020, and we are excited to take the next step in delivering cutting-edge forensics hardware and software to organisations and agencies worldwide. We look forward to continuing our collaboration with Detego Global and addressing the investigative challenges faced by investigators through state-of-the-art technology in the years to come."
Customers will automatically be awarded their 120-day demo of the Detego Suite Pro following the acquisition of hardware from FCI up until 31 December 2023.
Get in touch to learn more about Detego Global's technology, or get a first-hand experience with a 30-day trial
here
.
About Detego Global
Detego Global is the company behind award-winning Digital Forensics, Case Management and Endpoint Monitoring solutions that are trusted by the military, law enforcement teams, intelligence agencies and enterprises around the world.
With the ever-increasing use of digital devices and the corresponding mass of data that's created, Detego Global's solutions have become the preferred choice for rapidly acquiring, analysing and acting on evidence and intelligence.
About FCI
Forensic Computers, Inc (FCI) has been around since the beginning of computer forensics. Founded in 1999 by a retired Air Force special agent and computer crime investigator, FCI has firsthand knowledge of the needs and challenges faced by the men and women who gather digital evidence and investigate computer crime.
Source: Detego Global
---
0 Comments