TelAve News/10785031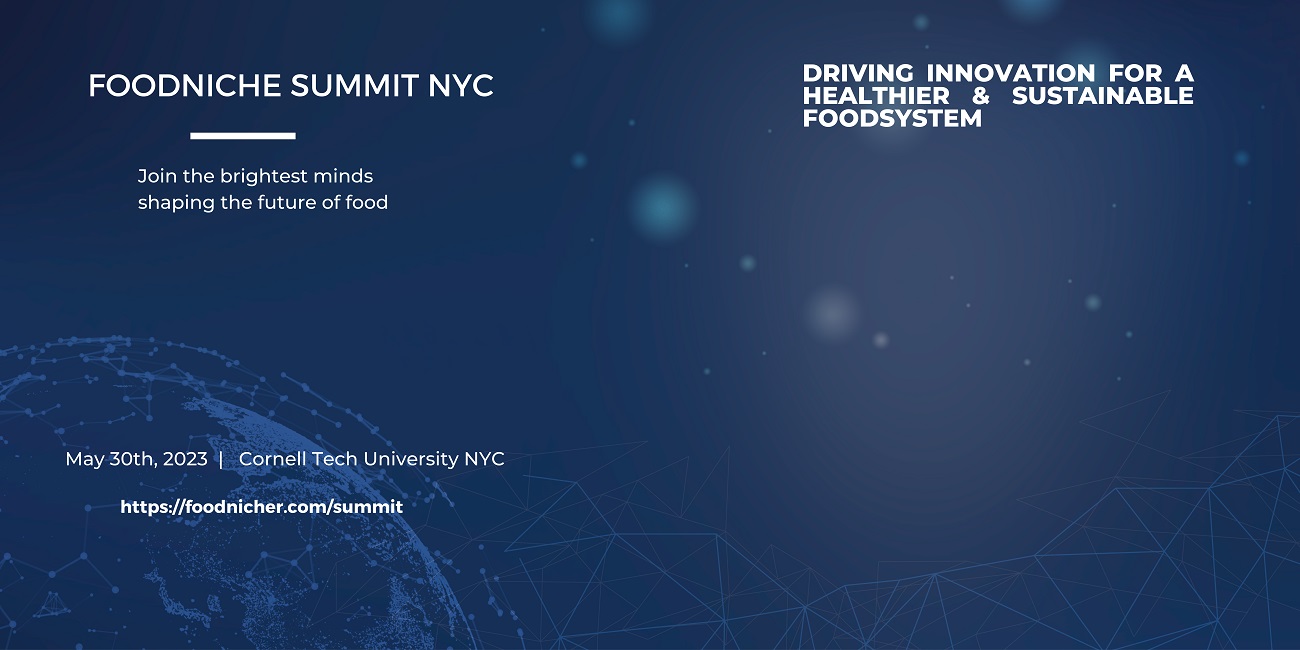 NYC attracts leading changemakers for thought-provoking conversations on accelerating healthy and sustainable food system
NEW YORK
-
TelAve
--
FoodNiche Inc
, a mission-driven organization that is focused on driving innovation towards a healthier food system through strategic partnership and educative programming, today announced its 7th annual
FoodNiche summit
will be held in New York City.
Scheduled to take place on May 30th, 2023 on Cornell Tech University Campus, the summit creates a unique opportunity for food industry leaders, innovators, investors, scientists, policy makers and other industry stakeholders to connect for a full day of insightful conversations.
According to the Chair of the
FoodNiche Summit
planning committee, Dr. Julia Olayanju: "This is an exciting time in the food industry with increased innovation poised to change the way we eat for generations to come. It is important to prioritize consumer health as we innovate. This is the only way to guarantee that these innovative food products stand the test of time, and this summit if focused on driving conversations and collaboration to make that happen."
More on TelAve News
The 2023 summit, themed Redefining the Future of Food Innovation, is billed to draw the brightest minds in the food industry for thought-provoking conversations, unparalleled networking, learning, and discovery. The growing list of exceptional speakers expected at the summit includes:
Phillip Demokritou, Ph.D., Henry Rutgers Chair and Professor in Nanoscience and Environmental Engineering -Rutgers University and Director, Harvard Center for Nanotechnology
Justin Honaman, Head of Retail & Consumer Goods GTM & Head of Food and Beverage, Amazon
Anne Greven, Strategic Finance Executive and former Global Head of Food & Agribusiness Innovation, Rabobank
Anabelle Broadbent, Founder and Chief Science Officer , Verde Ops
Martin Slayne, Ph.D., VP Global Scientific & Regulatory Affairs, Ingredion
Stu Strumwasser, Managing Partner, Green Circle Partners
The
summit agenda
includes insightful keynotes and informative panel discussions. There will also be solution spotlights and exhibition sessions where participants can discover and engage with innovative startup companies at the forefront of shaping a healthier and more sustainable food future.
More on TelAve News
Prospective participants can learn more about the event and secure their tickets via the
summit website
. A limited number of partnership and exhibition opportunities are also available for food brands and startups to showcase their products and demonstrate thought leadership at the event. Partnership and exhibition inquiries should be directed to
team@foodnicher.com
.
Source: FoodNiche
---
0 Comments